Fire Protection in Schools
Wednesday, April 17th, 2019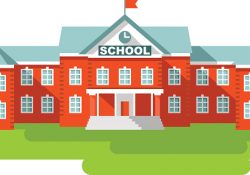 When it comes to fire protection in schools, you will want to be prepared. From elementary schools to college campuses, a lot of young lives are at stake when a fire breaks out in a school. Having the proper fire protection systems and fire safety measures in place can help your students stay safe if a fire occurs at school.
Types of Fire Protection for Schools
Schools must have proper fire protection in place for the students, staff, and building to be protected. Depending on the school and the hazards present, schools will need fire sprinklers, fire suppression, fire alarms, and fire extinguishers.
Fire Sprinklers – Fire sprinklers are an important part of any fire protection system. When a fire sprinkler system works properly, it can prevent a fire from spreading to another part of the building and greatly reduce property damage.
Fire Suppression – Fire Suppression systems may be needed in schools in kitchens, laboratories, and other places with special hazards. Commercial kitchen hoods are probably needed if your school has a cafeteria that is preparing large amounts of food. Many schools have labs with hazardous chemicals. These labs may need fire suppression systems to effectively extinguish a fire.
Fire Alarms – In order to alert students and staff of a fire in a school, a fire alarm system is needed. Fire alarms give people in the building time to get out safely by alerting them that there is a fire.
Fire Extinguishers – Having extinguishers throughout your school can help prevent small fires from spreading. If there is a small fire, having a fire extinguisher nearby can help save lives and prevent costly property damage.
Source: https://fireprotectionblog.com/fire-protection-schools/
---